Table of Contents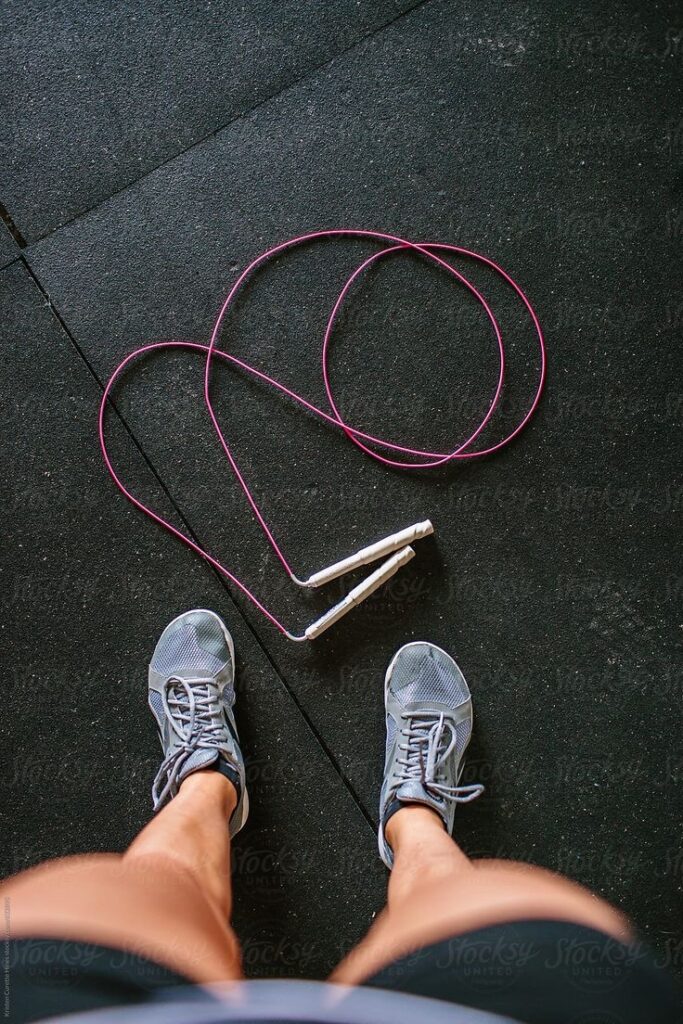 Introduction
In this extensive guide, we will delve deep into the world of skipping rope, exploring its history, techniques, health benefits, and various aspects of the sport. Skipping rope, also known as jump rope, is not just child's play; it's a versatile tool with a rich history and a multitude of benefits.
A Journey Through History: The Origins of Skipping Rope
Early Beginnings: We trace the roots of skipping rope back to the 16th century when explorers reported aborigines using vines for jumping.
Skipping's Evolution: Discover how the practice of skipping rope evolved from a primarily male activity in the 17th century to a popular pastime for girls by the 18th century.
Skipping in the United States: Learn how skipping gained prominence in the late 19th century in the United States as urbanization provided smooth surfaces for this enjoyable exercise.
Techniques and Styles of Skipping Rope
Solo Participants: Explore the fundamental techniques for individual jumpers. Learn about the basic jump, alternate foot jump, criss-cross, side swing, and more.
Competition Techniques: Delve into advanced competition techniques that are essential for competitive jump rope events. Discover how jumpers demonstrate competence through specific skills and routines.
Health Effects and Benefits of Skipping Rope
Cardiovascular Workout: Understand how skipping rope provides a cardiovascular workout that's comparable to jogging or cycling, with the potential to burn a significant number of calories.
Weight Loss and Calorie Burn: Learn about the calorie-burning potential of skipping, with insights into how it can aid in weight loss.
Mental Health and Focus: Explore the mental health benefits of skipping, including improved concentration and reduced anxiety and depression.
Flexibility and Muscle Strength: Discover how skipping rope enhances body flexibility and muscle strength, making it an integral part of an athlete's workout routine.
Skipping Rope in 2020 and Beyond: A Popular Exercise Choice
Pandemic Popularity: Find out how skipping rope gained popularity in 2020 when gyms closed and people sought home-friendly workouts during the COVID-19 pandemic.
Accessibility and Simplicity: Explore how skipping rope workouts can be done at home without the need for specialized equipment.
Calories Burned and Weight Loss: The Math Behind Skipping Rope
Calories Burned: Get a detailed breakdown of the number of calories you can burn while skipping rope and how it compares to other forms of exercise.
Effective Weight Loss: Understand the role of skipping rope in a weight loss regimen and the importance of a balanced diet and other factors.
Precautions for Safe Skipping: Avoiding Injuries
Warm-Up and Proper Attire: Learn the importance of warming up before a skipping session and using shock-absorbing socks to reduce the risk of injury.
Hydration and Support: Discover the benefits of staying hydrated with electrolyte water and wearing a sports bra to provide adequate support during exercise.
Injury Prevention Tips: Get practical tips to avoid injuries, including recognizing the signs of injury, selecting the right surface, and choosing appropriate footwear.
The World of Competitive Skipping: International and Inter-School Championships
International Organizations: Explore the governing bodies for competitive jump rope, including the International Jump Rope Union (IJRU), and their journey toward achieving global recognition.
World Championships: Discover the history of World Championships in skipping, with insights into the merger of international organizations and the development of the sport.
Inter-School Championships: Learn about the World Inter-School Rope Skipping Championships, a unique platform for young athletes to showcase their skills on a global stage.
Types of Jump Ropes: Exploring the Variety
Speed Jump Ropes: Understand the characteristics and best use cases for speed jump ropes, known for their thin vinyl cords and suitability for speed jumping.
Licorice Jump Ropes: Explore the features of licorice jump ropes, often made from vinyl cord or PVC, and their role in freestyle jumping.
Beaded Ropes: Learn how beaded ropes with their rhythmic sounds aid in rhythmic jumping, making them an excellent choice for specific styles and routines.
Leather Jump Ropes: Discover the thicker and durable nature of leather jump ropes, making them suitable for outdoor use.
Conclusion
Skipping rope is not just a simple childhood activity but a versatile exercise with a rich history and a multitude of health benefits. Whether you're looking to shed some pounds, enhance your cardiovascular fitness, or even compete at the highest level, skipping rope has something to offer. With the right techniques and precautions, you can make the most of this accessible and effective workout tool. So, grab your jump rope, and let's get started on your skipping journey!
Here are 4 Best Jump Ropes with Built-In Counters on Amazon
Ropeless Skipping Rope with Digital Counter, Speed Smart Jumping Rope for Indoor and Outdoor Fitness, Weighted, Boxing Training Adjustable Workout for Men, Women, Children Cordless Skipping Rope
Product description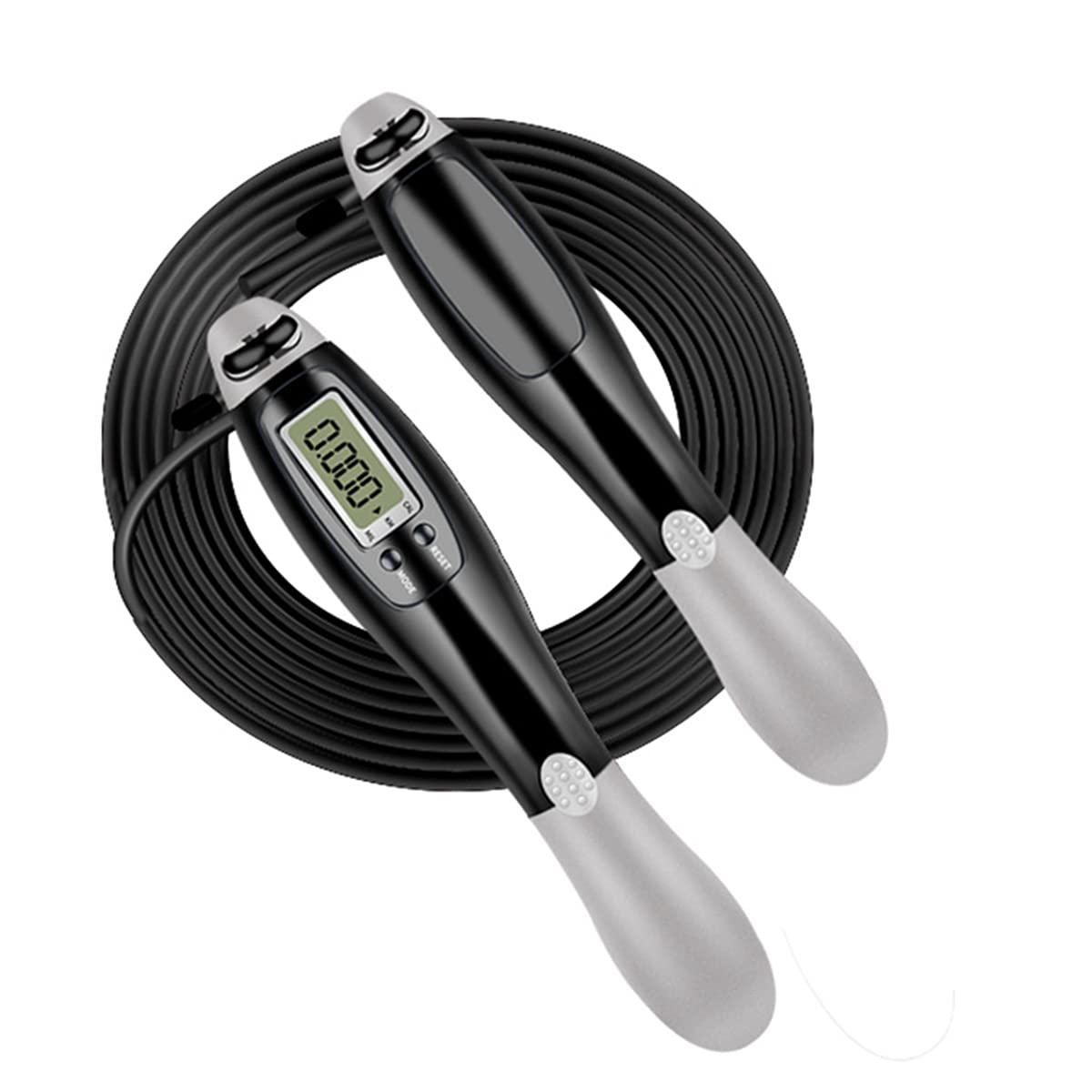 Why choose Smart Counting Skipping Rope and Ropeless Jump Rope?: Rope skipping is the best fitness exercise. It is not only simple and easy to operate, but also has obvious effects. 10 minutes of skipping rope is equal to half an hour of running. Traditional skipping rope has relatively large restrictions on the venue due to the rope.
Similar to homes, offices, etc., which are not particularly spacious, they cannot exercise well. But Our exercise rope skipping has two modes: rope and cordless. The type cordless mode simulates the feeling of skipping with real ropes. It is convenient and easy to use in the house. No need to take up too much space and you'll never need to worry about tripping yourself up.
Meanwhile, double-key digital counting recording design, breaking the tradition, making sports more intelligent, high-definition display, clear at a glance, four modes can be converted at will, fitness is more effective. Whether you are at home or outdoors, you can choose according to different rope skipping modes.
Features: *Fitness anywhere: Ropeless skipping rope can be jump any where such as balcony, bedroom, office. *Smart Digital Counting Counter Design *360° Steel Ball Bearing. *Cordless Skipping and Limited Skipping Mode *More colors for option There are 4 colors for your option ,pink ,green ,blue ,black ,you can pick the one you like. Specification: Material: PVC+Steel Wire+PP+ABS Handle Size: 18 CM X 3.5 CM Rope Length:280 CM Rope Diameter:0.4 CM Ball Diameter:3.5 CM Package: *2 x Skipping rope handles *2 x rope balls *1 x rope
Brand: GEEKCOOK
Target Audience: Adult
Special Feature: Digital Display, Ad, Weighted, Cordless
Material: Polyurethane (PU)
Handle Material: Acrylonitrile Butadiene Styrene (ABS)
About this item
Cordless Skipping and Limited Skipping Mode – This exercise rope skipping has two modes: rope and cordless.The type cordless mode simulates the feeling of skipping with real ropes. It is convenient and easy to use in the house.No need to take up too much space and you'll never need to worry about tripping yourself up.
Smart Digital Counting Counter Design – This speed jump rope is equipped with a backlit LCD screen digital counter. It has 4 modes( count mode, calorie mode, mile mode and kilometer mode), so you can control exercise efficiency and overall fitness goals easily.
360° Steel Ball Bearing – Handles are equipped with high-quality 360-degree ball bearings to avoids the twisting,winding or bending.The rope skipping can easily,stable,rotate quickly and bring you smoothly and easily jump experience.
Durability – Steel rope protected by PVC sheathing with durability,endurability and fluentness,makes it suitable for the floor of any material like tarmac,pavement,patio,etc. Perfect for daily use.It is very useful for stay healthy anytime and anywhere.
Comfort – With 110inch long of the rope, Length can be adjusted freely. The length of the skipping rope can be adjusted to suit different ages and heights. Ergonomically designed with non-slip handles for optimal and comfort grip. You can exercise more easily and for a longer period of time.
Customer reviews
4.3 out of 5 stars
RENPHO Smart Jump Rope, Fitness Skipping Rope with APP Data Analysis, Workout Jump Ropes for Home Gym, Crossfit, Jumping Rope Counter for Exercise for Men, Women, Kids, Girls
Product description
RENPHO Smart Jump Rope, Fitness Skipping Rope with APP Data Analysis, Workout Jump Ropes for Home Gym, Crossfit, Jumping Rope Counter for Exercise for Men, Women, Kids, Girls
Colour:
A-Black Steel wire rope 1 pc
Brand: RENPHO
Target Audience: Girls,Men,Women
Special Feature: Digital Display, Lightweight, Adjustable Length
Material: Polyvinyl Chlorine (PVC)
Handle Material: Foam
About this item
Most convenient cardio exercise: With RENPHO smart jump rope, you can get a more efficient, more low-cost, and happier cardio exercise. The jump rope is lightweight and portable, it is a gift for women to be flexibly used indoors or outdoors. Keep workouts, it will help you keep a fit body and effectively improve cardiopulmonary functions and endurance. It's a good choice for teenagers and college school students.
Reach fitness goal with APP Renpho Health: Our fitness skipping rope can connect with our APP Renpho Health that can easily analyze and track your periodic workout data. You can grasp your skip time, total skip number, calories burned, and tangles to reach your fitness goal at any time.
Three smart jump rope modes: The workout jump ropes have 3 shipping modes to choose from (free jump/time countdown/numbers countdown). Our jump rope is a built-in chip and is equipped with 3 sensitive & precise Hall sensors that can count for every jumping data correctly and ensure data accuracy.
Adjustable PVC steel wire rope: The jumping rope counter adopts 3M/9.85FT PVC steel wire rope that is durable and non-tangling. The PVC-wrapped steel rope can be suitable for almost any kind of floor like floor tile, wooden. No need for cutting and can adjust quickly.
Clear LCD display & comfortable foam handle: Our jump ropes for fitness for men are equipped with a lightweight foam handle that is made from friendly environmental ABS with EVA material. The foam handles give you comfortable touch and non-slip when exercising, Also, the main handle is embedded with an HD LCD display that provides users a clear view of the rope skipping data, like skip time or total skips.
Customer reviews
4.3 out of 5 stars
Momax Smart Jump Ropes for Fitness, Cordless Skipping Rope with APP Data Analysis, Adjustable Workout Jump Ropes with Counter, Digital Jump Rope for Men Women Kids, Indoor Outdoor Home Gym Exercise
Product description
No longer limited by the narrow space, interact with mobile phones via MOMAX Smart App, combining sports with entertainment.
Brand: momax smart
Target Audience: Kid, Adult
Special Feature: Digital Display, Slip Resistant, Tangle Free
Material: Plastic
Handle Material: Acrylonitrile Butadiene Styrene (ABS)
About this item
[Multiple Jump Rope Options] Momax Smart jump ropes for fitness provides 2 types of accessories: 9.8ft skipping rope and cordless ball. So if you're in a tight space, you can easily train with the cordless ball without worrying about breaking furniture or hurting yourself. In addition, it also provides 3 Jump Rope modes (Free jump, Time countdown, Numbers countdown) for you to choose the right mode according to the scene.
[Reach Goal with Momax Smart APP] Visualize your efforts! This skipping rope connects to Momax Smart App, which assigns programs based on your goals and tracks your workout data daily. Voice reminder and built-in counter make your training easier. You can also compete with your friends through the app to make training even more fun.
[Special Magnetic Design] This workout jump ropes is creatively equipped with magnetic handles so you can put them together for perfect storage and portability. The magnetic charging port makes it easier to charge with just one snap. Very suitable for women and kids to carry to the outdoor for exercise.
[High Precision, High Quality] Thanks to the bipolar Hall sensor, Momax Smart Digital Jump Rope can accurately calculate each jump to ensure the authenticity of data. Precision steel bearings not only support fast, smooth and stable rotation, but also reduce rotation noise.
[Adjustable Jump Rope Length] This jump ropes for fitness comes with 3m/9.85ft PVC wire rope that is durable and tangle-free. The adjustable length design makes it suitable for all body types, such as women, men, children, etc. One jump rope can meet the needs of the whole family sports. Can be widely used for crossfit, boxing, MMA, fitness and exercise.
Customer reviews
4.2 out of 5 stars
GOOGIC Weighted Jump Rope withe Counter, Cordless Jump ropes with HD Screen for Exercise Fitness, Wireless Skipping Rope with for Indoor/Outdoor, Pink & Gray
Brand: GOOGIC
Target Audience: Adult
Special Feature: Digital Display, Weighted, Cordless
Handle Material: Acrylonitrile Butadiene Styrene (ABS)
Colour: Pink & Gray
About this item
★JUMP ROPE WITH SMART COUNTER★ – GOOGIC jump rope equipped with backlit HD LED display which shows Timer, Weight, Calorie, and Circles. which will help you track the time and rotations and calculate the burned calories based on your weight. It's useful to monitor your exercising progress and help you to achieve better fitness result.
★WEIGHTED LONGER HANDLES★ – Built with a removable metal block inside the every handle,weighing at 110 grams. Which helps burn more calories, build endurance and muscle tone by training arms, core back and shoulders. The right weight for not straining your wrists while start the jump rope, weighted handle is built to help you achieve your weight loss and fitness goals. Ideal choice for women and men.
★ERGONOMIC & SMOOTH DESIGN★★Longer ergonomically ABS handles provide you a comfortable grip, smooth ball bearings on the inside to offer an unhindered & stable 360° rotation, eliminates tangling and coiling.Experience smooth jump exercises with this newest rope. So you can workout easier and longer.
★ROPE JUMP/CORDLESS★ – 2 PVC ropes and 2 weighted ball could be replaced at anytime as needed. These weighted balls provide resistance for an effective workout, mimic the feel of skipping with a real rope which is best for beginner or fitness enthusiasts for daily exercise in a narrow space.
★PACKAGE INCLUDES REPLACEMENT ROPE★ – Handle x2, Cordless ball x2, 9 FT rope x2 (grey color rope x1, pink replacement rope x1 ), Manual x1, Storage bag x1. If you have any question, please feel free to contact with us.
Customer reviews
4.7 out of 5 stars